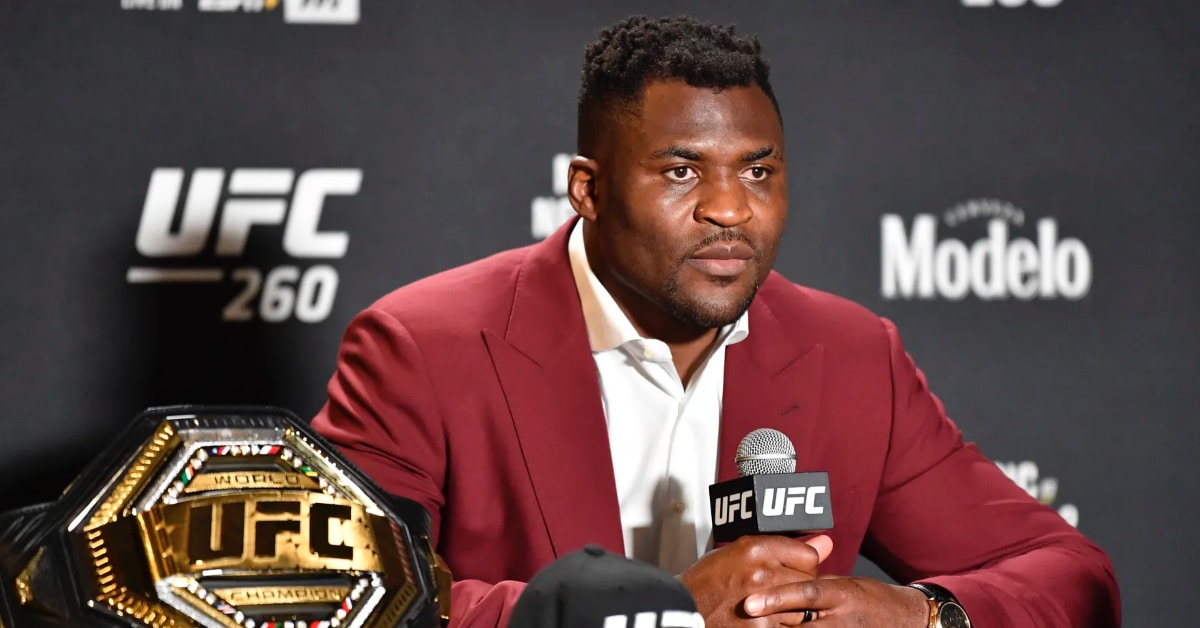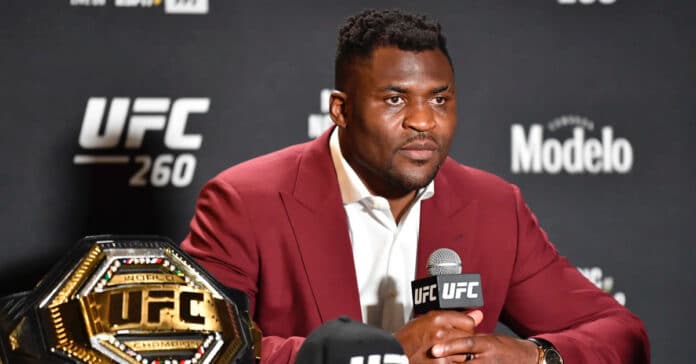 Mandatory Credit: Chris Unger/Zuffa LLC
Following his shocking release from the UFC, Francis Ngannou has finally responded. Facing heavy criticism from UFC president Dana White, Ngannou made a six-minute video minute thanking the fans and explaining his decision.
Notably, Francis Ngannou responded to White who claimed Ngannou was "scared" and no longer wanted to face the best fighters in the world. Join me as we play judge and jury between the UFC and Ngannou. 
Trial 1: Francis Ngannou v Jon Jones 
Jon Jones v Francis Ngannou would have been arguably the biggest fight in Heavyweight history, including the days of Brock Lesnar. This fight had seemingly been in the making since Ngannou earned the strap in March of 2021, but never came to fruition. White made it clear Jones was ready to fight anyone. That's a subjective claim from the UFC's president. When Ngannou was ready to go in late 2022 and Jones was in hot water after allegedly assaulting his wife. At that time, Jones was not "ready to fight anyone." 
Sure, in 2023, Ngannou is the one to blame for this fight never happening. The UFC clearly wanted this fight to happen for years, but the timing never worked out on both sides. In playing judge and jury on this one, both Jones and Ngannou deserve large amounts of blame, while the UFC takes a smaller cut. Ngannou also made it clear on his opinion between Jon Jones and Ciryl Gane.
"Undisputed means nothing."
Those three ominous words are all Francis Ngannou needed to say on how he's viewing the UFC's upcoming Heavyweight championship. However, that feels a bit unfair as Ngannou could have taken the fight with Jones. It's easy for Ngannou to say he would have beaten Jones, but until he steps into the octagon with him, the MMA world will never know. 
Trial 2: Francis Ngannou v Fear
In short, no, Francis Ngannou is not scared. It's preposterous to think that someone who grew up mining sand in Cameroon and fled to France is scared to step into an octagon and fight anyone with his fists. Dana White clearly has no shame, but should be embarrassed for claiming Ngannou is in any way "scared" to fight the best in the world. Ngannou made his opinion clear on how he felt about the UFC president's comments.
"That sounds ridiculous. With all due respect, I have been calling for this fight for over two years and I have been waiting for this fight forever. I fought a guy on one knee- a major injury. And now, why would I be scared of them when I feel even more confident?"
I'm giving the clear win to Ngannou on this one. To believe Francis is scared to fight is ridiculous and Dana White should be embarrassed for claiming as such. 
Trial 3: Francis Ngannou v Contract Negotiations
Now it's time for the most important trial of them all: who is to blame between the UFC and Francis for the failed contract negotiations between the two parties? UFC fighters are not employers of the organization, but rather independent contractors. Dana White has stated on numerous occasions including his press conference last weekend "if you don't want to be here, you don't have to be here." White also claimed he offered Francis Ngannou a deal that would have made him the highest-paid fighter in UFC heavyweight history, including Brock Lesnar. However, Ngannou made a statement on how money was not the only factor. 
"For a contract that is supposed to be for an independent contractor, the UFC contract is very restrictive. So, there is not a lot to want or things you can do while under contract. [The UFC] decides for you. I signed my last contract in December 2017 and at the time I knew it was not a good contract, but I had to earn my position and become a champion to negotiate a new deal. That's what I've been doing the past five years and I never complained about my previous contract. The only thing I wanted was to terminate that contract and earn a new deal. That's called freedom." 
This one as well is a clear win for Francis Ngannou. White claiming "if you don't want to be here, you don't have to be here," is a false statement when contracts prevent fighters from going elsewhere. Ngannou had to wait until his deal ran out, before the UFC finally granted his release. 
As the UFC heavyweight champion and baddest man on the planet, Ngannou should have been treated like a king and been given freedom in his deal, even if that included boxing fights. Imagine if Ngannou fought Tyson Fury. That fight would have been as big as Conor McGregor vs. Floyd Mayweather and earned everyone involved, bucket-loads of cash. Had the UFC played their cards differently, Ngannou could have been one of the UFC's biggest stars, with his patented one-punch power. Instead, Ngannou's champion reign will largely be remembered as a what-if story, while the UFC will always have to acknowledge their failure to sign Francis to a deal. 
Overall, while both sides are at fault, the UFC definitely is more to blame. Fighters deserve more rights in their contracts and the promotion shot themselves in the foot by letting Ngannou walk. In the end, the people who lose the most are the fans, who will now likely never see Ngannou fight Jon Jones. In a debacle of a situation by both sides, the UFC should be ashamed of how they handled Francis Ngannou's contract negotiations.