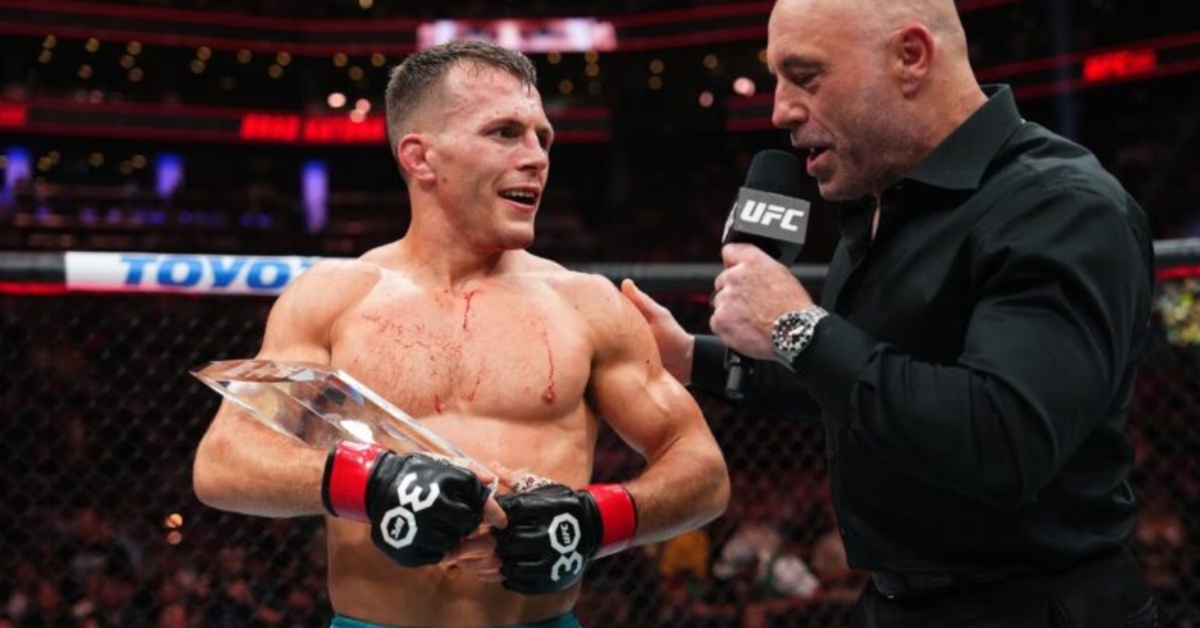 TUF 31 winner Brad Katona is already chomping at the bit to get back inside the Octagon and take advantage of his second chance with the promotion.
On August 19, Katona made history by becoming the first competitor to win The Ultimate Fighter not once, but twice. The SBG Ireland product originally won season 27 of the long-running reality series in 2018 but was released after dropping back-to-back bouts against Merab Dvalishvili and Hunter Azure. Four years later, Katona earned himself another shot by scoring a spot in the latest season of the series.
Katona took full advantage of the opportunity, landing three straight wins, including an absolute barnburner against Cody Gibson in the tournament final at UFC 292.
Following his big win, Brad Katona sat down with Danny Podolsky in a LowKick MMA exclusive interview to discuss his return to the UFC, and most importantly, what comes next.
"The goal remains the same. We're chasing that UFC belt," Katona said. "I've worked with a very good sports psychologist, Dr. Jason Brooks, and he wanted a lot about this fight to be us shrinking it down. We can talk about the accolade. You win the Ultimate Fighter twice. That's so cool and you're back in the UFC, but that's not our end goal.
"We really looked at the best bantamweight in the world. We want to be chasing that title and that helped us shrink down this opportunity to what it was. If we're living up here with the world champions, Cody Gibson is down here. And that's nothing against Cody, but that's just where we're living. That's how we're operating. That's the level of excellence that we need to keep up.
"So what am I doing next? I'm doing exactly that. I'm living up here with the very best of them and working backward from there. And what does that look like? Well, there's a big pay-per-view in December. If that opportunity comes up, absolutely. Let's hop on that. If there's a Canadian card, awesome. Let's do that as well."
Brad Katona Comments on Sean O'Malley's Shocking UFC 292 Knockout of Aljamain Sterling
The same night that Brad Katona secured his second contract with the promotion, Sean O'Malley shocked the world with a stunning second-round knockout of Aljamain Sterling in the UFC 292 main event. Asked for his thoughts on the crowning of a new bantamweight world champion, Katona said:
"I think it was very impressed with what [O'Malley] did. How can you not? The thing that made Aljamain Sterling the champion is his ability to show up consistently at the highest level. Anybody can have a night here or there, but he shows up consistently and wins fights against the best bantamweight in the world.
"Then when Sean O'Malley goes and knocks him out, that's a feat," Katona continued. "I think Sean O'Malley is an extremely intelligent guy. He surrounds himself with a lot of great people. He has a great team behind him and it's not by accident. You see the Sean O'Malley smoking weed with the hair. You see the clown act, but it's an act. If you think that's what he's doing day in and day out, I wouldn't be surprised if he was back to work on Monday. He seems like that type of guy. Very intelligent."
As for how he would match up with O'Malley in a potential fight, Katona believes he brings many of the same threats to the Octagon that Aljamain Sterling does, but with significantly better boxing.
"I think I offer a lot of the similar threats that Aljamain does," Katona continued. "Maybe not the size. I'm not as tall and long as him, but I got striking. I got hands and I think I've got all those things. Aljamain didn't quite have the boxing, hence he overextended and walked into that shot. It was a beautiful shot, but it was from, I believe, Aljamain Sterling's lack of boxing. Maybe some desperation to get to the ground. That's what you're not going to find with me.
"I think I match up well with O'Malley, but again, my job is to do exactly what Aljamain does. Perform at the highest level consistently, and that's what I'm focused on."