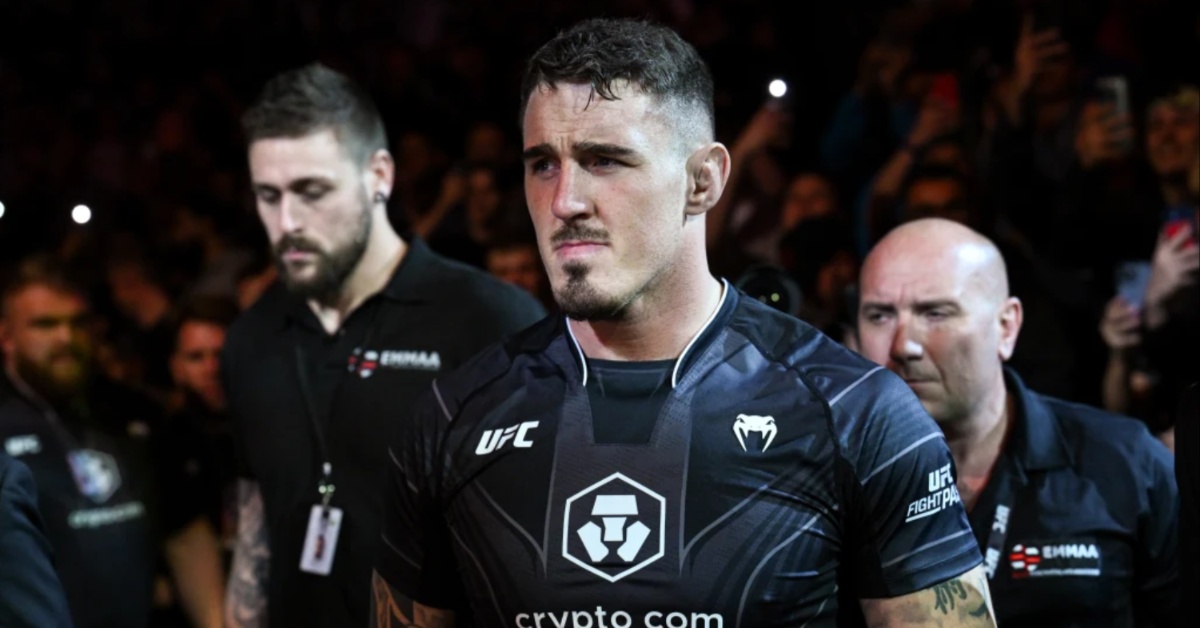 Tom Aspinall (13-3 MMA) has assured fans that he will be at UFC 295 to watch Jon Jones (27-1 MMA) Vs Stipe Miocic (20-4 MMA), whether he is scheduled to fight or sat cage side at the event. 
Aspinall is eager to return to the Octagon after he was forced to step away from the competition for a year due to a severe leg injury he sustained 15 seconds into his anticipated bout against heavyweight contender Curtis Blaydes (17-4 MMA) at UFC London in 2022.
Following his leg surgery, the 30-year-old finally returned to action against Polish brawler, Marcin Tybura (24-8 MMA) in the main event of UFC London. 
Tom Aspinall did not disappoint the English faithful, knocking out Tybura in just 73 seconds, a performance that silenced his critiques and gave voice to a possible title run. 
The Brit was quick to the microphone after his win during his post-fight interview, as he laid out his two-fight plan to the UFC gold. It starts with him beating the winner of Ciryl Gane (11-2 MMA) Vs. Sergi Spivac (18-1 MMA) and then ends with a heavyweight title fight against MMA's consensus GOAT, Jon Jones. 
Tom Aspinall wants to fight at UFC 295
Jon Jones is set to make his first defence of his 265lbs title against former heavyweight champion Stipe Miocic at UFC 295 in November. 
Tom Aspinall plans to attend, however, in a perfect world he is hoping he will be able to make his pay-per-view debut by fighting on the undercard of the event and is even open to facing fellow heavyweight contender Sergey Pavlovich (16-3 MMA) at the event.
"I'm going to be at the event regardless," Tom Aspinall said. 
"Whether I'm fighting or watching, I definitely want to be there. To be that part of that fight week, what a build-up and what an event that will be. I really, really want to see that. Whether it's up close or I'm gonna be fighting. Hopefully, I'm gonna be fighting on the same card because that timeline really works for me as well."
Jones seemingly brushed off Aspinall's callout stating that he has been beating young prospects that were supposed to be the next thing his whole career and he doesn't see it any differently now.
'Bones' became a two-division champ in March earlier this year and has even hinted at the possibility of retirement after his upcoming fight against Miocic, but Aspinall feels that he can poke the bear enough to make him interested enough to stay around for one more dance. 
"I'm all right to poke at someone's ego. I am a polite guy, but I want to get what I want. I don't want to be so polite where people overlook me. I want to beat the GOAT that's what I want to do. I want to be the UFC heavyweight champion of the world and that's what I'm going to do at any cost." 
Tom Aspinall continued, "If that means I have to do certain stuff to get people's attention to put me in a place where other people are not, then I'm definitely gonna do that. I need to be selfish in this game because that's what's going to get me to where I want to be. Sometimes you have to hurt people's feelings to get to where you wanna be and I'm all right doing that."
At the end of the day, it is Jon Jones' choice if he wants to keep fighting but the possibility of a Britain Vs. American showdown for the undisputed UFC heavyweight title might be too much of a tantalising possibility for the UFC to pass up.
Do you think we will ever see Tom Aspinall Vs Jon Jones?