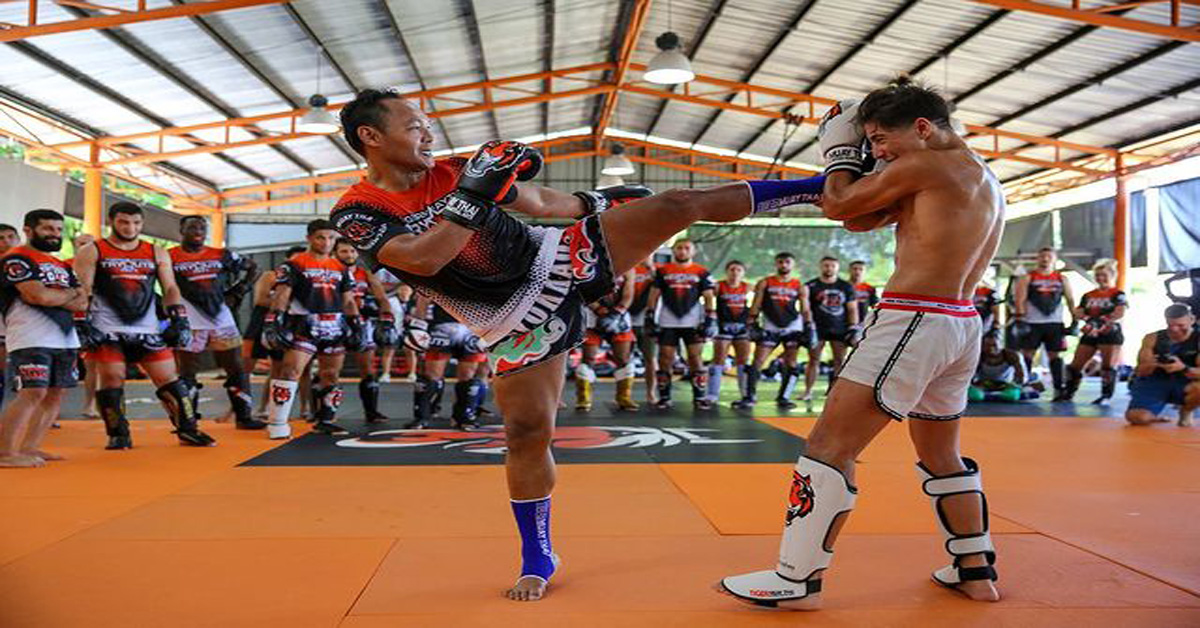 Saenchai is a Muay Thai icon and one of the greatest Thai boxers ever.  A legend that has been at the top of Muay Thai for the last 30 years. 
| | |
| --- | --- |
| Name: | Supachai Saepong |
| Date of Birth: | July 30, 1980 |
| Place of Birth: | Kosum Phisai District, Maha Sarakham Province, Thailand |
| Nickname: | Saenchai |
| Gym: | Yokkao |
| Height: | 1.65 m (5 ft 5 in) |
| Weight: | 66 kg (146 lb; 10 st) |
| Weight Classes: | Flyweight, Bantamweight, Featherweight, Lightweight, Welterweight |
| Record(s): | Kickboxing 327-49-2/Boxing 5-0 |
| Years Active: | 1994 to Present |
| Championships: | 21 Combined World Championships |
Here's a quick rundown of an ageless Muay Thai icon, Saenchai. Detailing the highlights of his career and his most famous fights.
Saenchai's Entry Into Muay Thai
Suphachai "Saenchai" Saepong grew up in the Thai province of Maha Sarakham. His first introduction to Muay Thai was when he was eight years old.
Saepong saw his older brother's friend fight and win money. This would lead to his start in Muay Thai at the famous Jocky Gym.
Just a week after training, Suphachai would win his debut. Winning a decision and earning 30 Baht, which equals $1.
For the next six years, Saepong would fight around his province and gain experience.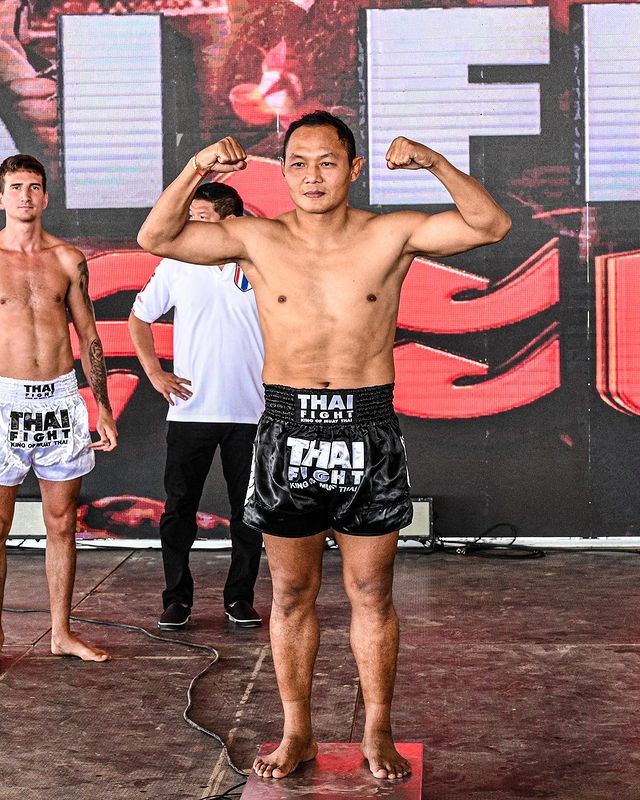 Early Career At Lumpinee Stadium
When Saenchai was fourteen, Jocky transferred him to the Kamsing Gym in Bangkok—owned by Muay Thai legend Somluck Kamsing, who paid 300,000 Baht or around $3k for Saeprong's contract.
Training at Kamsing Gym is where he would be given the ring name that Suphachai would become known by: Saenchai Sor. Kamsing.
He would level up and debut at Lumpinee Stadium at the age of fourteen. Winning his debut by decision.
Saenchai would go 4-3 in his next seven fights and lose a decision in his first Lumpinee title at 112 lbs. His next three bouts would be a series of matches with Ekachai Chaibadan, beginning a long rivalry between the two fighters.
During the rest of the 1990s, Saenchai would have numerous big matches. Winning both the 115 and 118 lbs Lumpinee Stadium Championships.
Fighting Career During The 2000s
Throughout the 2000s, Saenchai would fight in every major Muay Thai promotion numerous times. Fighting in all of the big stadiums from Rajadamnern, Omnoi, and of course Lumpinee Stadium.
After a decade of fighting in Thailand, Saenchai would win the 130 lbs Lumpinee Stadium before making his international debut. Knocking out Dutch fighter Joad Erraji in his home country of the Netherlands.
He would stay busy throughout the decade, winning and losing the 130 and 135 lb Lumpinee Stadium titles. Also, traveling to fight foreign fighters everywhere from England to Japan.
Short Boxing Career
From 2002 to 2004, Saenchai transitioned to professional boxing. Making his boxing debut on May 18th, 2002, with a decision win over Teofilo Tunacao.
In his second pro fight, he would win the vacant PABA interim Featherweight title with another decision win. He would win three more fights through 2004 before returning to Muay Thai full-time.
The Falling Out With Khamsing
During the late 2000s, a highly publicized falling out between Saenchai and Khamsing started in 2006. The gym owner disproved of Suphachai fighting in Japan a third time and wanted to book him in another fight.
Saenchai would ignore Khamsing and travel to fight in Japan with another fight team. This would lead to a separation, where Khamsing received 300,000 from Kingstar Gym as a transfer fee. For the next five years, Saenchai would train primarily at Kingstar Gym.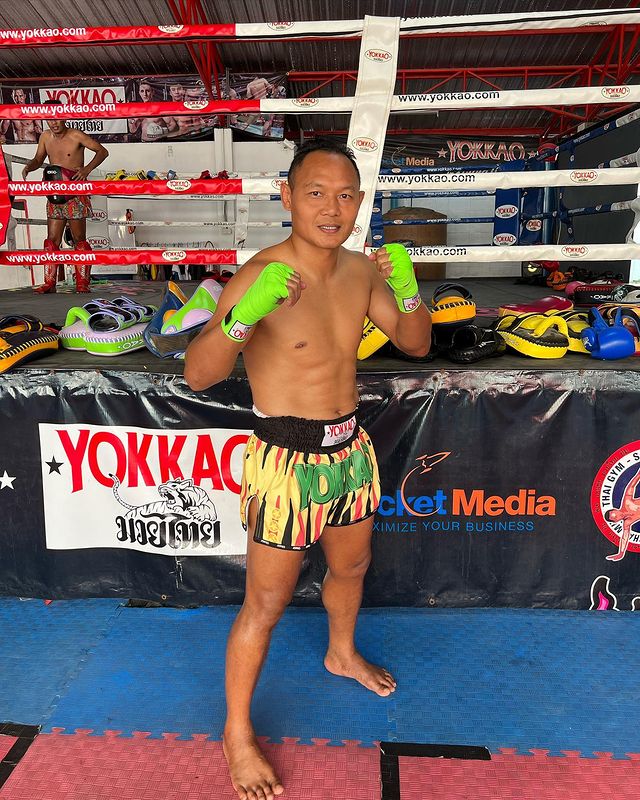 Saenchai Joins Yokkao
In 2011, Saenchai signed an exclusive deal to train at Yokkao Gym. Yokkao founder and owner Phillip Villa made him the premiere sponsored fighter on the Yokkao Fight Team.
This deal with Yokkao would make the Thai boxing champion one of the faces of Muay Thai. Allowing him to not only fight around the world but also put on seminars and training sessions. His first appearance was fighting at a Yokkao Extreme 2012 in front of 12,000 in Milan, Italy. 
Throughout the next 12 years, Saenchai has continued being the face of Yokkao and fighting at their events. Even winning the YOKKAO Diamond Welterweight Championship in 2020.
Retirement
In 2014, Saenchai retired from serious Muay Thai competition in Thailand. Choosing to only fight in showcase events around the world.
This move would lengthen the Muay Thai champion's career and improve his financial situation. For the last decade, Saepong has been one of the highest-paid kickboxers in the world.
Saenchai's Time With Thai Fight 
One of the most notable parts of Sanechai's career was his time fighting for the promotion of Thai Fight. Since making his Thai Fight debut in 2014, Saenchai has never lost a match in the promotion. Making him the most successful fight in Thai Fight history.
His resume in Thai Fight includes the following:
2016 THAI FIGHT Kard Chuek 70 kg King's Cup Champion
2017 THAI FIGHT 67 kg King's Cup Champion
2018 THAI FIGHT 67 kg King's Cup Champion
2019 THAI FIGHT 70 kg King's Cup Champion
2022 THAI FIGHT 70 kg King's Cup Champion
Most Championships: 5
Most Wins: 51
Undefeated
Saenchai: The Most Active Thai Boxer 
Since 2010, Saenchai has been one of the most active fighters in the world. Suphachai has fought in 88 matches in 15 countries in the last thirteen years. Not to mention, the exhibition matches that he's taken part in.
The Ageless
In 2014 when Saenchai retired from Muay Thai, the legend has not lost a match in almost a decade. Going an incredible 70-0 since exclusively fighting in showcases and Thai Fight.
When Suphachai initially retired at 34, he was seen to be well past the age where Thai boxers traditionally retire. At 42, Saenchai is still fighting and shows no signs of slowing down.
Since entering his 40s, he has fought 13 times and is scheduled for more matches in the future.
Saenchai To BKFC?
It was announced this year that Saenchai signed with bare-knuckle boing promotion BKFC. He was scheduled to fight fellow legend Buakaw Pramuk in a bare-knuckle Muay Thai bout.
This match was set to take place in March 2023, but BKFC ran into legal trouble. There was a dispute over BKFC's use of the term Muay Thai in Thailand on a bare-knuckle boxing show. The event has not been rescheduled.
Saenchai's Style
Suphachai Saenchai is a Muay Thai master but not your typical Thai boxer. He has perfect technique but has sort of an unorthodox approach that has been one of the keys to his success.
Saepong is known for his lethal precision, impressive footwork, and his high-level combos. Saenchai prefers to use precision striking over power striking, as in Thai boxing is the norm.
When the fight starts, Suphachai will begin reading his opponent and then begin setting up his unorthodox combos. Choosing to dissect his opponents before taking them out with one of his patented strikes.
Some of the trademark techniques of Saenchai include:
Flying Scissor Head Kick
Jumping Switching Front Kick
Turn & Pivot To Left Head Kick
Cartwheel Kick
Cross To Back Knee
Hand Trap To Cross
Push Off To Headkick
Back Kick To Cross
Fake Front Knee Shuffle To Back Kick
Roundhouse Catch To Footsweep
Double Unders To Takedown
Push & Pull Sweep
Fake Back Kick To Back Push Kick(and vice-versa)
Lean Back Headkick Defense To Counter
When you watch Saenchai fight, you'll likely see him use nearly infinite setups with one or all of these techniques, making him one of the hardest opponents to prepare for.
Saenchai's Legendary Training
After decades of fighting, people want to know Saenchai's secret for staying on top of the sport. The secret to Supchai's success is his immense dedication. 
Thai boxing is this man's life; he is always in the gym, perfecting his technique and learning new techniques.
He spends several hours a day training doing rounds upon rounds of bag work, pad work, light sparring, and technical drilling. 
This dedication to training has made Saenchai a force to deal with in the ring. Being a master technician with a seemingly endless gas tank
The Teacher
Saenchai is one of the greatest fighters of all time, but his best work may be as a teacher. Since joining together with Yokkao and becoming their spokesman, Saepong became one of Muay Thai's biggest ambassadors.
He has become one of the most sought-after teachers in kickboxing. Every year, Saenchai does several seminars and workshops that thousands of kickboxing practitioners participate in.
Whenever Saenchai isn't training, he is teaching. Showing that he is a real student of his martial art.
Legacy
Saenchai Saepong is one of the most prolific fighters in the history of Muay Thai—a career spanning over 40 years with numerous championships that shows no sign of stopping.
But Saepong's greatest contribution to Muay Thai is his work as an ambassador of the sport. He is one of the faces of Thai boxing that helped spread the martial art through his work teaching Muay Thai. This work makes Saenchai a true icon in Muay Thai.