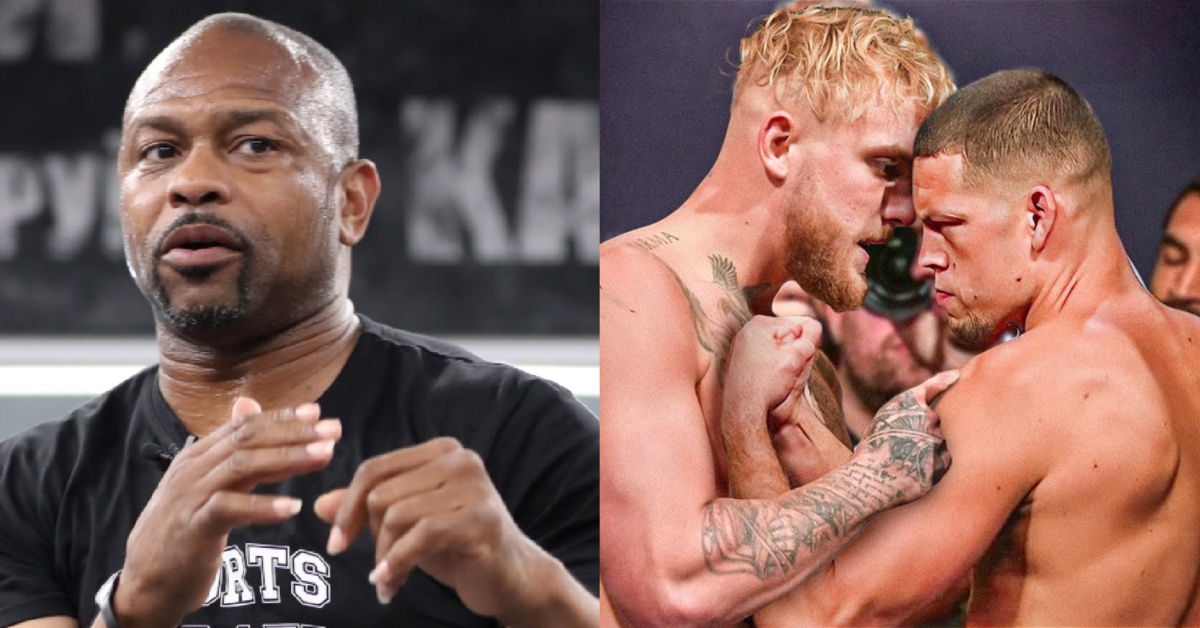 Legendary pugilist Roy Jones Jr. wouldn't blame Nate Diaz for taking a shot at the absolute joke that is Derek from Betr Media.
On Thursday, Derek once again proved himself to be a giant boyle on the a** of combat sports media by using his opportunity to be part of the festivities as a way to get himself over like a pro wrestler going off-script. Derek made his presence known earlier this year during a May press event and immediately got on the Stockton native's bad side when he took a dig at both Diaz brothers.
"Nate, I'm actually a boxer myself and I've been trying to get into this undercard," Derek said. "I'm just wondering if you think I could fight your brother, Nick, because if he's anything like you I think I'd beat his f*cking ass."
Unfortunately, Derek managed to get himself into Thursday's pre-fight press conference and once again went into business for himself by attacking Nate Diaz in a most unprofessional manner.
"I'm sorry that your feelings were hurt," Derek said in regards to their first encounter. "Maybe if your boys see me, maybe they won't f*ck me up this week. Anything to say Nate? Can't wait to watch Jake knock you the f—k out."
The entire encounter was clearly orchestrated by Jake Paul in order to get a response out of Nate Diaz. In that regard, it was 100% effective, but it was nevertheless a classless move by all parties involved and only serves to make members of the media and the next generation of combat sports athletes look that much more pathetic.
Roy Jones Jr. Responds to Troll at Jake Paul vs. Nate Diaz Press Conference
In an interview with TheMACLife, boxing icon Roy Jones Jr. was fired up looking back on the incident and suggested that if it had happened to him during his heyday, he would have made every effort to put his hands on the man that intentionally disrespected him to chase a little bit of clout.
"Come in and be respectful or you shouldn't be allowed to come in," Jones Jr. said. "So for guys like that, if you didn't respect me from the press conference, he should be escorted out and not allowed to be in the press conference again. He better not show his face again because if he does, they should… Dude's disrespectful. If it were me, I would tell my people to let me get to him because I wanna bust him in his damn mouth. You got so much to say, let me see you defend yourself."
As for how Jones Jr. sees Nate Diaz fairing in his pro boxing debut, the multi-time world champion believes it will all come down to defense.
"Nate's gonna do good. Really it'll just be about how long can he last," Jones Jr. said. "Can he take Jake's punch and how much [punishment] can he handle? He's a real good fighter. He's a very good striker so if he has good defense… All I'm worried about is his defense. Offensively he's great. I know he can fight offensive because he's sparred with some of the best. He's been around the game. He's one of the best strikers in MMA. So I know he can strike. But in boxing, because we got gloves, it's about also what can you take."
Who do you think comes out on top between Jake Paul and Nate Diaz this Saturday night?