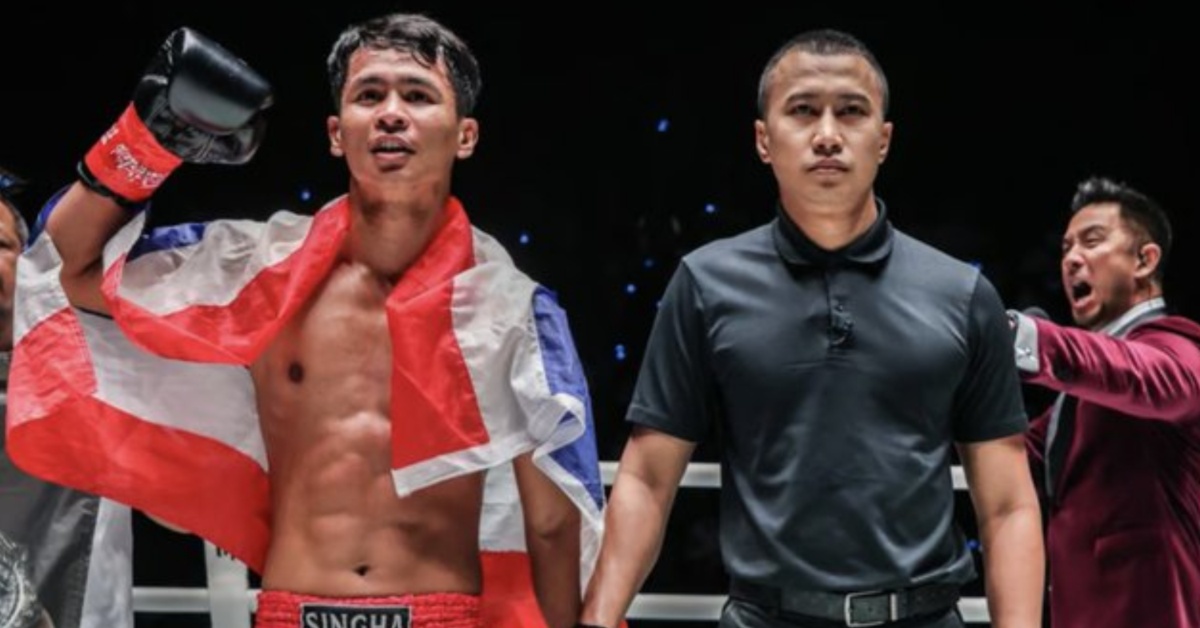 Beloved ONE Championship referee Paopom Watcharin was found dead in his home on Friday, per a report from the South China Morning Post.
The 34-year-old former police sergeant and Muay Thai fighter last officiated on June 9, working the promotion's ONE Fight Night 11 event inside Bangkok's legendary Lumpinee Boxing Stadium. He was scheduled to return to the iconic venue on Friday for an event that began at 7:30 p.m. local time, but he never showed up. The police reportedly found the referee dead in a condominium in the Bang Kapi area at 10 p.m. No details have been released regarding the cause of death.
"No one would know that the fight between Superbon and Tayfun Oscan would be the last time we would see Paopom," ONE said in a statement on its Thai Instagram page. "Throughout our time working together, Paopom was perfect. He has never been late for a minute, but on Friday, June 16, Paopom did not appear at Lumpini as usual. After trying to contact him by phone several times, we heard the news that made the whole team upset."
Paopom, whose full name was Watcharin Ratchaniphon, officiated two bouts at ONE Fight Night 11 earlier this month, including a contest between Thai kickboxing icon Superbon Singha Mawynn and Turkish standout Tayfun Ozcan. Superbon scored a brutal second-round head kick KO in what would turn out to be the referee's final appearance inside the ring.
"ONE's management and our team all mourn the passing and express their deepest condolences to the family and friends of Paopom during this difficult time," ONE's statement added. "We will always remember the good story of Paopom the police chief, Watcharin Ratchaniphon, ONE's first Thai judge. In our memory forever."
The Men and Women of ONE Championship Mourn The Loss of Paopom
ONE Championship CEO Chatri Sityodtong delivered a lengthy and heartfelt statement on Facebook after learning of the tragic news.
"Thank you for everything, Pom," Sityodtong wrote in a Facebook post on Saturday. "You made history as the youngest and most decorated referee by the Sports Authority of Thailand. You made history as the first Thai referee to work on the global stage of ONE. You made history as a pioneer in the greatest era of Lumpinee Stadium.
"Above all though, you inspired all of us with your beautiful heart, loyal friendship, and warm humility. We will forever honour you and your work with the highest integrity and utmost passion. We will continue to carry the torch and ensure that it burns brightly around the world. We will miss you. May you rest in peace, my fellow warrior."
Tayfun Ozcan, one of the two men who competed during Paopom's final appearance as a referee, was left shocked by the news. "Unbelievable," Ozcan told the Post. "He was so nice to me."
Another fighter who had worked with Paopom earlier in the evening on June 9, Amber Kitchen, also shared her condolences. "Very devastating news about Paopom. He will be missed in the industry. I felt very safe in the ring with him," Kitchen, 24, told the Post. "Condolences to his friends and family."
Paopom's co-worker and fellow referee Olivier Coste commented on the loss of his friend and encouraged those in need to reach out for help.
"Pom, brother. Not you," Coste said. "I am devastated, we were so close together, but I would have never imagined that you were in such distress. I will never ever forget you, and I will always think of you when I will step in the ring. Love you Pom. If anybody needs to talk, please message me. I will always be here for anyone."
Rest easy Paopom you could always tell how much he cared for the fighters even in this video he tries to stop Ozcan's head from hitting the canvas https://t.co/YNeIyWos0C

— Charles (@blacksabrejr2) June 17, 2023