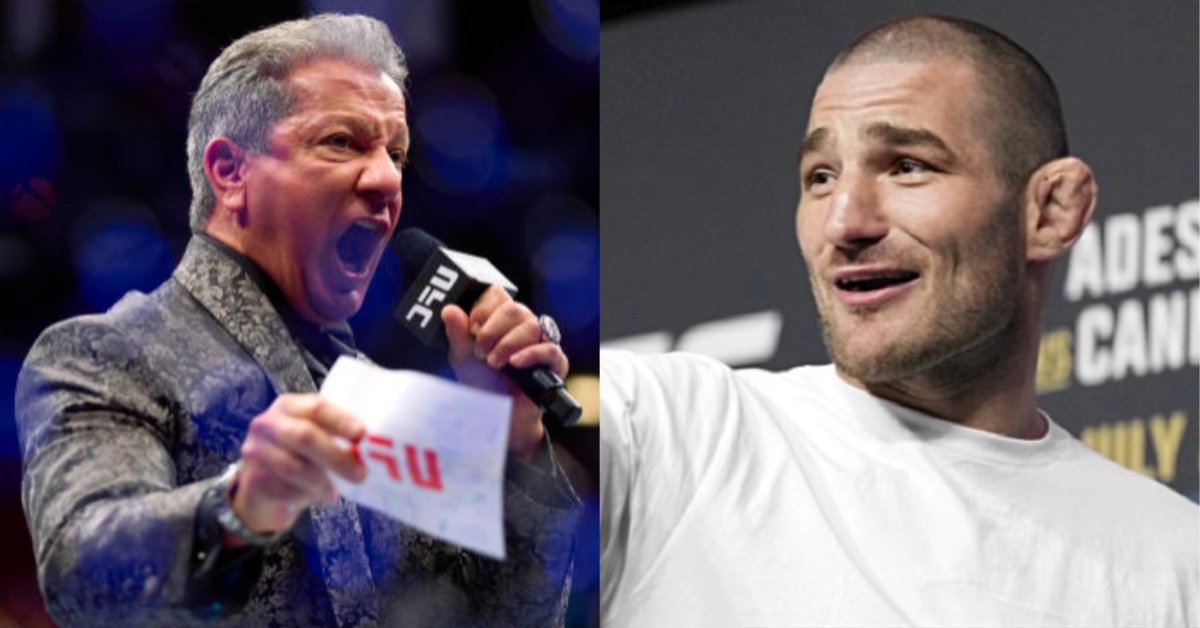 Outspoken middleweight contender Sean Strickland has seemingly gotten under the skin of long-time Octagon announcer Bruce Buffer.
Strickland scored another impressive win on Saturday night, dispatching Dagestani standout Abus Magomedov in less than two rounds during his Fight Night headliner inside The APEX. Of course, much of the attention on Strickland last week wasn't regarding his big win, but the words that came out of his mouth before it. 'Tarzan' struck a chord with MMA fans once again, suggesting that we as a country need to "put women back in the kitchen" during a media appearance meant to promote his main event matchup.
It's far from the first time Sean Strickland has shared his often controversial and downright vile viewpoints. And while some individuals have come to appreciate his unfiltered hot takes, Bruce Buffer is not one of them. In a recent video clip shared by The MMA-Holes on YouTube, Buffer delivered a stern message to Strickland when asked about the constant flurry of disrespect displayed by the California native.
"I said it earlier. Handle yourself with class, right? I have nothing against Sean. He hasn't said anything bad to me," Buffer said. "Somebody said something to me to my face, then they have to deal with it. I have to deal with it and I'll deal with it the way I see fit, right? Don't talk bad to me. Don't talk down to me. Don't put your hands on me. Okay? Sean handles himself the way he handles himself. I say, Sean, check yourself before you wreck yourself."
Sean Strickland Disgusts MMA Fans with His Controversial Take on Fallen Fighter
Sean Strickland made headlines ahead of his return to the Octagon, blaming women for many of the struggles that the United States has found itself in since giving women the right to vote more than 100 years ago. Strickland also managed to effectively piss off MMA fans after disparaging late amateur mixed martial artist Shalie Lipp who tragically passed away in an automobile accident in May. Lipp's story made headlines across the country after Dana White delivered a heartfelt message to the fallen fighter on social media.
Instead of joining the masses in mourning, Sean Strickland decided to deliver an absolutely classless take on Lipp's passing and subsequent media attention.
"I dug a little deep and I'm gonna tell you. She wasn't that f*cking good. [She had a] 3-2 record, coming off a loss [against a fighter] with a 1-1 record," Strickland said in a video posted on social media. "And this is going to sound  f*cked up, but it's just facts. If you didn't die, nobody would know your f*cking name."
While some have defended Strickland's highly controversial commentaries by calling them pure satire, there is a very clear line, and 'Tarzan' seems to take a lot of pride in repeatedly crossing it.