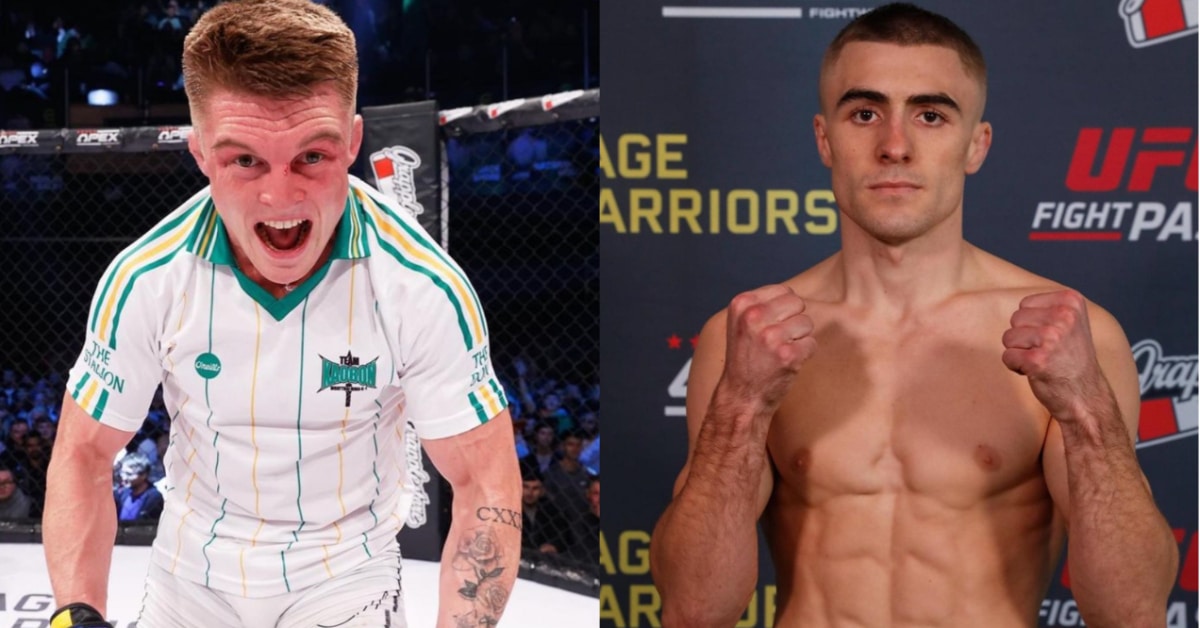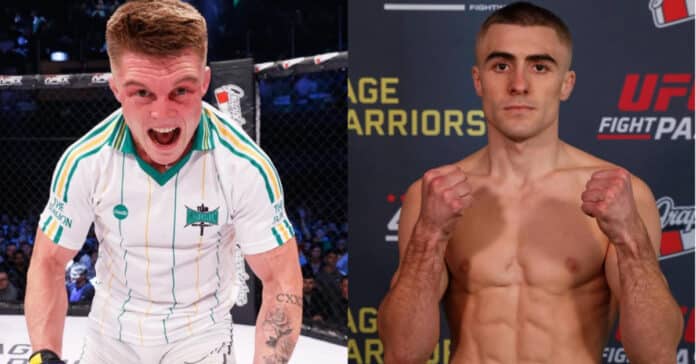 Images via: @doncaolan135 & @nathanfletcher_ on Instagram
At Cage Warriors 148, Next Gen Liverpool prospect Nathan Fletcher secured the 7th pro win of his career, claiming a unanimous decision victory over Italian striker, Alessandro Giordano.
The fight with Giordano, which took place on New Year's Eve, marked Fletcher's first bout of 2022. Having started the year off nursing an injury, Fletcher was hoping to return to action in the summer, and then later in the Fall. However, multiple fights would collapse, including a bout vs. UFC veteran Cameron Else.
Eventually, on the last day of the year, Nathan Fletcher found himself with a matchup. 'The Southport Strangler' showed that he had continued to improve in 2022, despite not being able to book a fight. A solid well rounded display, in which he demonstrated prowess in both the grappling and striking realms, saw him enter 2023 with an impressive win under his belt.
In a recent interview with LowKickMMA, Fletcher was asked who he envisions facing in the coming year. Whilst Fletcher does have one eye on the current champ, Michele Martignoni, he does already have a win over the Italian. Instead, there was one name that repeatedly came up, that of Caolan Loughran, about whom Fletcher had the following to say:
"That fights bound to happen. I think it's building up to it. The divisions very interesting at the minute, because obviously, we've got (Michele) Martignoni – there was like a little triangle with me, (Dominque) Wooding and Martignoni. Like, I beat Martignoni, Wooding beat me, then Martignoni beats Wooding. Wooding's out the picture now, he's signed with PFL. That's a fight I would have liked to gotten back, obviously, being a competitor. But that's not gonna happen now."
"So my focus has kinda switched. I've got the Martignoni rematch, which obviously the enticement there for me is the belt, because I've already got a win over him… In terms of the competitor in me, the only reason I want that fight is because he's got the belt. (Caolan) Loughran, again, I beat him, but that was amateur. That was a long time ago. Obviously, he's improved a lot since then. I've improved a lot since then. And he's got a bit of hype behind him, he's got a bit of a name. So that fight does really interest me. And the c*** keeps calling me out. He's called me out a good few times. So, I reckon that's the fight that's going to happen at some point next year, definitely."
Nathan Fletcher defeated Caolan Loughran at Cage Warriors Academy Ireland 1, whilst both men were still on the amateur circuit. He was able to claim a unanimous decision victory over the Irish prospect.
Check out Nathan Fletcher's full interview with LowKickMMA right here:
Nathan Fletcher reveals he defeated Michele Martignoni whilst suffering from food poisoning!
Whilst a fight with Caolan Loughran may be at the top of his list, a title shot against Michele Martignoni is surely too good a prospect to turn down for Nathan Fletcher.
However, this is a fight the 25-year-old from Southport would be immensely confident in taking. In the same interview, he revealed that he had been suffering from food poisoning the entire day of his original fight with Martignoni, and was still able to overcome 'The Italian Thunder.'
"So facing him again, it's not like I want to prove myself, that I can beat him. I've already beat him. And actually, when I fought Martignoni, I had food poisoning going into that fight. I was absolutely f***ed. Ask all me teammates, all my coaches. Matt Bonner was there. I didn't eat a thing all day. And after the fight I was being sick. I came out in a big anaphylactic shock. The doctor had to give me a load of medicine, stuff like that. I was in a bad way. And I still beat him on my worst day."
Who would you like to see face-off against Nathan Fletcher next? Caolan Loughran, Michele Martignoni, or someone else!?