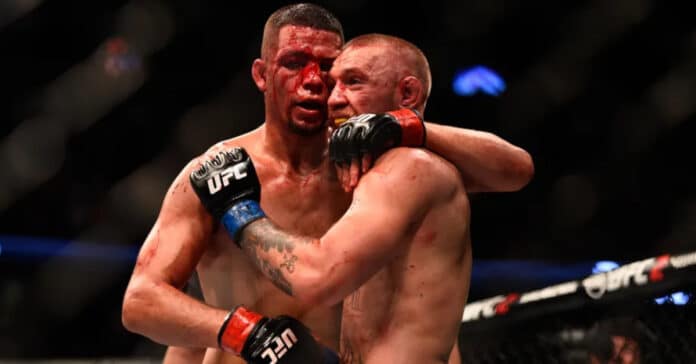 Mandatory Credit: Jeff Bottari – Zuffa LLC
Former UFC lightweight title challenger has warned division contender, Michael Chandler against defeating soon-to-be common-foe, Conor McGregor later this year – claiming himself and the Dubliner have unfinished business in the form of a potential future trilogy rubber match. 
Diaz, a former lightweight title challenger under the UFC banner, headlined a September pay-per-view event against former interim champion, Tony Ferguson, defeating the Oxnard native in a fourth round guillotine choke win. 
The outing came as Stockton native, Diaz's final under the UFC banner, having completed his contractual obligations with the Dana White-led organization. And in the time since, Nate Diaz has yet to return to combat sports, however, has been linked with a future professional boxing outing against recent headliner, Jake Paul.
As for Chandler, the one-time vacant lightweight championship challenger is expected to fight former two-weight gold holder, McGregor later this year upon the culmination of The Ultimate Fighter 31 – with the duo competing as opposing coaches against each other.
Nate Diaz issues warning to Michael Chandler over Conor McGregor fight
And ahead of the expected fight between the two, Chandler revealed Diaz warned him from defeating the ex-lightweight and featherweight champion, joking that it may scupper a trilogy rubber match between himself and McGregor in the future.
"He said (Nate Diaz) don't go winning because we're (Nate Diaz and Conor McGregor) are gonna do something," Michael Chandler told Inside Fighting during a recent interview. "We'll see what happens. We're about half and half [attached to fights with McGregor], yeah. We are mutually beneficial opportunists who love to compete against each other. That's where we're at right now."
Claiming he will "slice through" McGregor and "bludgeon" the Dubliner en route to an eventual second round finish, Chandler offered his own "Mystic Mike" premonition.
"I finish him (Conor McGregor) in the second round, that's a 'Mystic Mike' projection," Michae;l Chandler explained.