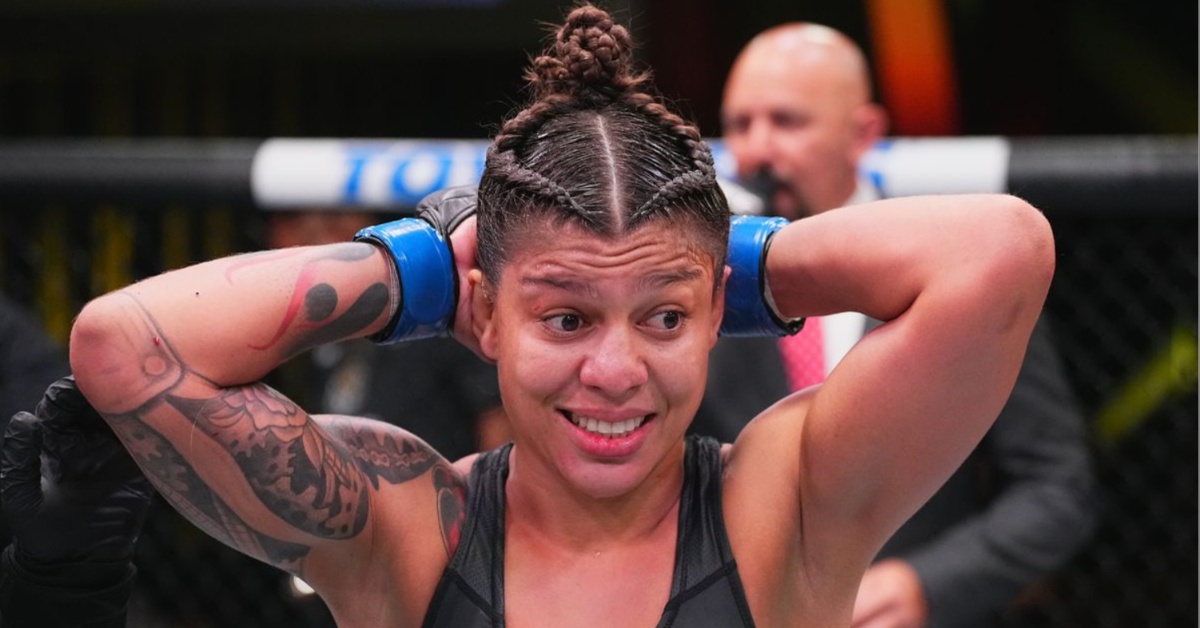 Surging bantamweight contender, Mayra Bueno Silva has announced on her official social media tonight, that she has been notified of a failed drug test return, in relation to an in-competition test sample submitted ahead of her UFC Vegas 78 headliner with former champion, Holly Holm back in July.
Bueno Silva, the current number three ranked bantamweight contender, headlined UFC Vegas 78 back in July against former undisputed division champion, Holm, submitting the Albuquerque native with a second round ninja choke, which came as her fourth consecutive victory.
Mayra Bueno Silva reveals positive drug test return after UFC Vegas 77
However, tonight, the Brazilian challenger has confirmed she has been notified of a positive drug test result she had submitted, pointing to ADHD medication she utilizes, and pleading her innocence in a statement released.
"It is with deep regret that I have to announce I failed a drug test that I took the week of my fight against Holly Holm," Mayra Bueno Silva wrote. "I want to begin by saying I have never in my life taken a substance to enhance my ability in or outside the cage. I have tested positive for a substance that is consistent with the prescription medication I take for my ADHD. I have been dealing with this disorder my entire life and it affects me in a multitude of ways."
"I have provided a plethora of documents and explanations to USADA and the Nevada State Athletic Commission detailing the disorder, the effects of the disorder on my daily life and my decision making in the ingestion of the prescription medicine. I am fully cooperating with USADA, the Nevada State Athletic Commission and the UFC to make sure that all information is available and I fully acknowledge the presence of the subctance in my system."
"I discontinued this medication at the beginning of the fight week, like I always have in the past. So while it appeared in a small amount in my system, I am told by experts that it would not have an effect on my in-competition performance at that level."
"Please, before you make any judgements, understand that I have been dealing with this my whole life and I am devastated that this has happened in my career," Mayra Bueno Silva continued. "I look forward to coming to a resolution and putting this behind me. I look forward to fighting again for the best organization in the world. I am the next champion and I am ready to fight." 
While Mayra Bueno Silva is likely to have the most high-profile victory of her UFC tenure overturned in the form of her submission win over Holm, the NSAC are scheduled to hold a disciplinary hearing for the Brazilian on Thursday this week. 
Bueno Silva is expected to be granted a temporary suspension with a sanctioning ruling expected to then be announced in the future at a subsequent commission meeting.