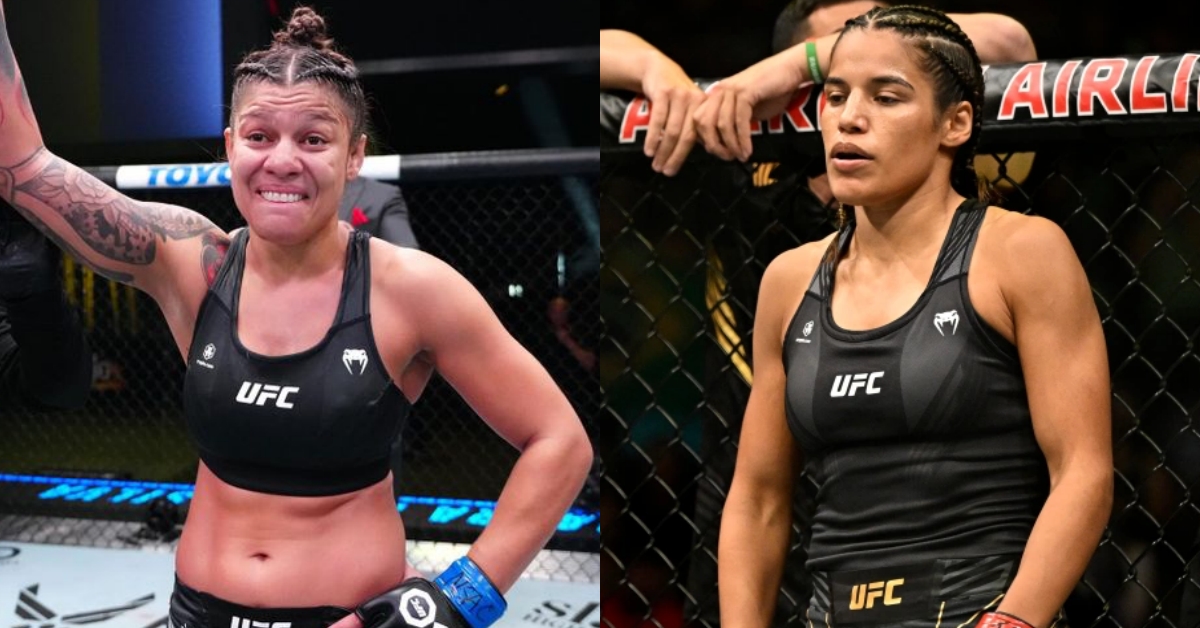 Off the back of last night's high-profile victory over former bantamweight champion, Holly Holm in her inaugural headlining clash under the UFC banner, Mayra Bueno Silva has vowed to "smash" former division queen, Julianna Peña – with the weight class still without a champion.
Turning in a blistering win over veteran former bantamweight champion, Holm in her first main event slot inside the Octagon, Minas Gerais native, Silva locked up an inverted standing guillotine choke on the Albuquerque native at the fence in the second round, forcing a tap on the feet.
The win came as Silva, the current number 10 ranked bantamweight contender's fourth consecutively since her return to the bantamweight limit, following prior wins over Wu Yanan, and submission stoppages of Stephanie Egger, and Lina Lansberg. 
In response to Mayra Bueno Silva's stunning win over former champion, Holm, another former bantamweight titleholder, the aforenoted, Peña – who has been linked with a vacant title clash against Raquel Pennington, claimed she would defeat both the latter and Silva on the same night.
"Did I hear someone say the name of the #PeoplesChamp?" Julianna Peña tweeted. "Perfetc, get in line. I'll do you and Raquel (Pennington) in the same night. Who else wants a beating?" 
Did I hear someone say the name of the #peopleschamp? Perfect. Get in line. I'll do you and Raquel in the same night. Who else wants a beating ?

— Julianna Peña (@VenezuelanVixen) July 16, 2023
Mayra Bueno Silva issues a warning to ex-champion, Julianna Peña
Urging the outspoken Washington native to bite her tongue in response, surging grappling talent, Silva claimed she would "smash" Peña if the duo share the Octagon in the future.
"She's scared," Mayra Bueno Silva told assembled media following UFC Vegas 77. "She's funny. I love you, Julianna (Peña). But I will smash you. Look ay my fight, look at your fight. Oh, Julianna, shut up." 
Hitting her stride inside the Octagon in the wake of her bantamweight division rebirth, over the course of her professional career, the now 11-2-1 Silva has landed a whopping eight separate submission stoppages, landing victories over the likes of Gillian Robertson, and Mara Romero Borella before her current winning streak.