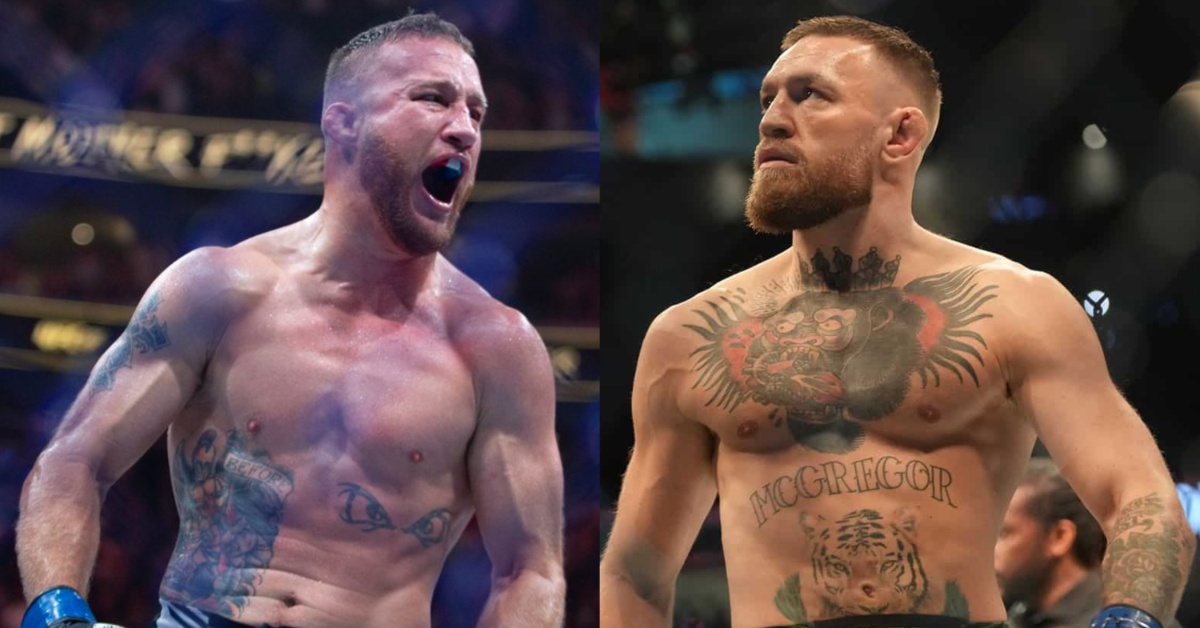 Justin Gaethje's manager Ali Abdelaziz is calling bullsh*t on Conor McGregor's callout of the newly crowned baddest motherf*cker in the game.
UFC 291 saw 'The Highlight' live up to his moniker, scoring a brilliantly-timed second-round head kick KO against Dustin Poirier more than five years removed from their 2018 Fight of the Years. With Justin Gaethje now the toast of the town, it's no surprise that the first fighter to target him was none other than 'The Notorious' Conor McGregor. The Irishman immediately took aim at Gaethje, suggesting that he would make quick work of 'The Highlight' and prove to the world that he is the only man worthy of carrying the BMF title.
Of course, the immediate disrespect from McGregor did not sit well with Justin Gaethje or his manager, Ali Abdelaziz, who tore into the former two-division titleholder during a recent interview.
"I believe Conor is full of sh*t," Abdelaziz told MMA Fighting. "I believe he don't want to fight Justin. He's not even a fighter right now. He's a retired fighter. He's a retired troll with a lot of money. That's it. He drinks all day, smokes weed, he does drugs and he can do whatever he wants but he's not even a fighter but he wants to talk about fighters. He wants to talk about real killers. Conor McGregor is not a killer. He wants to talk about killers. Conor McGregor is not a fighter, he wants to talk about fighters. Conor McGregor is not a man. He wants to talk about men.
"He wants to be in the conversation but in reality, he's not like none of these guys. These guys put the work in every day. They train, they sacrifice, they leave their families. What he does, he does everything wrong and you want be in the conversation. He missed it. He misses the limelight and the only way he can be in the limelight to speak about these gladiators. He's not a gladiator anymore. He's an old, beat up dirty dog. That's what he is."
Abdelaziz Believes Justin Gaethje vs. Conor McGregor Only Ends One Way
Abdelaziz believes that if Conor McGregor is truly willing to sign on the dotted line for a fight with Justin Gaethje, it's only going to go one way.
"This is the scenario that will happen: T-Mobile Arena, sold out arena, 20,000 people. Justin Gaethje walk into that cage, Conor McGregor walk into that cage, Conor McGregor gets brutally hurt, injured, knocked out," Abdelaziz said. "I think Justin Gaethje's notorious for punishing people for disrespecting him in a fight. Like [Dan] Lauzon, like Michael Johnson, like [James] Vick, we know what happened to all these people.
"But the scenario that will happen, I promise you this, you're going to see an ambulance going straight to the cage, picking up Conor McGregor straight to the hospital."
Despite his lack of wins over the last several years, Conor McGregor is still an undeniable draw that will bring in big-time money for the promotion and his opponent. With that in mind, it's hard to imagine Justin Gaethje and Abdelaziz turning down the fight, but at this point, 'The Highlight' doesn't need the Irishman's attention.
If Conor McGregor is not next for Justin Gaethje, it will be a UFC lightweight world title fight against the winner of October's rematch between Islam Makhachev and Charles Oliveira. Either way, 'The Highlight' is in line for a big money fight whether the Irishman is involved or not.
"If this is what he wants, and somebody is willing to write a check and Trevor Wittman give me the greenlight, and the UFC wants it, maybe," Abdelaziz said. "But I believe Justin Gaethje don't need Conor McGregor. I believe Justin Gaethje his next fight will be for UFC gold. He earned it. I think he and Islam Makhachev is going to be one of the biggest fights of the year. I truly believe. I think it's a story built into it. Both my clients, love both guys, both great men, both guys have a lot of honor and that's what it's all about in this sport.
"But if you want to go and somebody really get hurt, sign the contract. He don't want to fight Justin Gaethje. He only fights people coming from losses. He only fights people he thinks he can beat. He thought he could beat Dustin Poirier. You see what Dustin Poirier did to him and you saw, respectfully, what Justin Gaethje did to Dustin Poirier. I'm telling you, Justin Gaethje's not going to just go there and knock him out with one punch. He's going to brutalize him. You will never see Conor McGregor again."