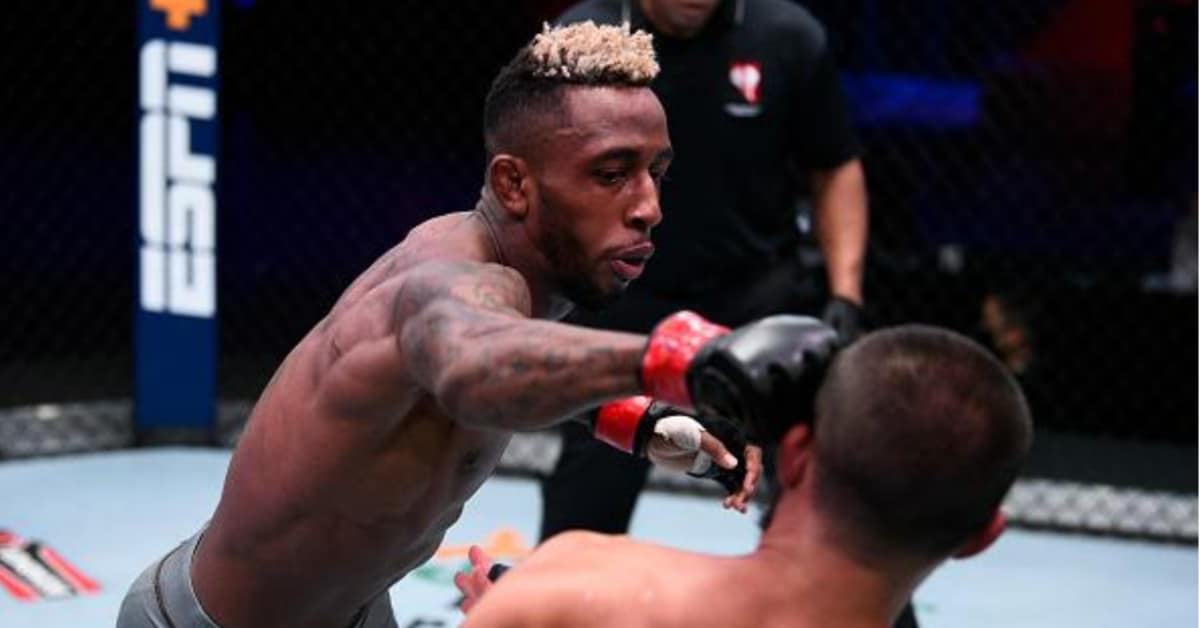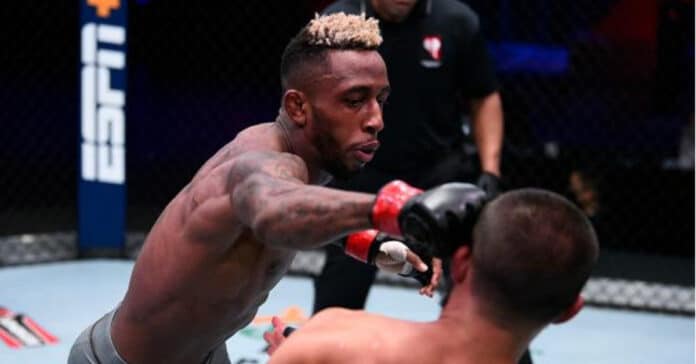 Photo by Chris Unger/DWCS LLC/Zuffa LLC
José Johnson (15-7) is poised to make a statement as the newest Bantamweight on the UFC roster. After a challenging yet successful stint in the regional scene, Johnson competed on Dana White's Contender Series in 2020 in which he was defeated by Ronnie Lawrence via Unanimous Decision.
After winning 3 out of his 4 next fights, Johnson landed another appearance this past August on DWCS to face the undefeated Jack Cartwright. In his second fight in front of Dana White, Johnson was dominant and earned a UFC contract following the victory.
UFC newcomer José Johnson recently took the time to sit down with Alex Lerman of LowKick MMA to reflect on his journey to the UFC, describe his skills and abilities, and offer up some potential opponents and venues for his debut.
Johnson took a minute to talk about what it means to officially be on the UFC roster:
"Everyone's sending me messages on Instagram and Facebook about how motivational my story has been for them… At the end of the day, I like to fight, but I also like to teach. So, if I was given the opportunity to inspire people, that's part of being a teacher. It's a good feeling."
Additionally, Johnson described his personal journey, to get to where he is today. Using some sobering words, Johnson stated:
"A lot of people say that martial arts changed their lives. No, martial arts saved my life. I was going down a really bad path hanging around some really bad people… For me, it was either I'd be in prison for the rest of my life or I'm dead. A buddy of mine was like hey they got sparring at this one gym, and I was like 'I'm not going to sparring they can see me in the streets'. Being 17, my pride was up here, 'somebody was gonna whoop my ass? No sir, I'm going'. Needless to say, I got my ass whooped and I really enjoyed it… and here we are now."
José Johnson On Improvements as a Fighter
As previously mentioned, Johnson suffered a defeat in his first DWCS bout, but is now 4-1 since. Currently on a three-fight win streak, Johnson reflected on the improvements he's made since tha loss in 2020:
"I had to improve as a person first. Nothing happens overnight, so little by little I start changing certain things in my life, certain people, certain habits. I became a totally different person. It's really helped me become a better fighter changing myself as a person."
Johnson enters an absolutely stacked Bantamweight division. There are dangerous fighters up and down the rankings, but Jose sees himself as different from these other competitors. Confidently, Johnson describes why no bantamweight should want to see him across from them in the octagon:
"They've seen good striking. But they haven't seen the striking mixed with the power that I possess at 135. I finish 80% of my fights be knockout… Typically, if you let me get any type of combination off, I'm putting you to sleep… I think the power difference, the size difference, I'm only getting bigger."
Continuing on with this topic, Johnson sounded off on Sean O'Malley expressing a strong desire to have a meeting with him in the future:
"Sean O'Malley, this clown, he swears he's the biggest 135'er in the division and he's not. He's 5'11 I'm 6'0. I can't wait to see him… You're not the biggest 135'er in the division, I'm gonna show you that, and you don't possess the same level of knockout power either. You're kind of like a pop shop fighter."
Johnson on Potential Debut Opponents
It was recently announced that Jose Johnson will be fighting against Garrett Armfield on February 25th at the UFC Apex for his debut fight. At the time of this interview, the news wasn't official yet, and Johnson named a few matchups that he would be keen to:
"I like the Miles Johns matchup, I like the Fernie Garcia matchup. I really don't study my division like that… I study style people. It's just a fight so I don't give a sh*t who I fight against."
On which venues he would like to compete at Johnson goes on:
"Dream wise, two places. Madison Square Garden one, and two, Abu Dhabi. I'm tryna go ride a camel."
Jose Johnson looks to get his debut victory in the UFC on February 25th vs. Garrett Armfield at the UFC Apex. Watch the full interview below for Johnson's analysis of the upcoming Sandhagen vs. Vera fight, and a lot more interesting insight from the newest Bantamweight in the UFC.
Full interview: