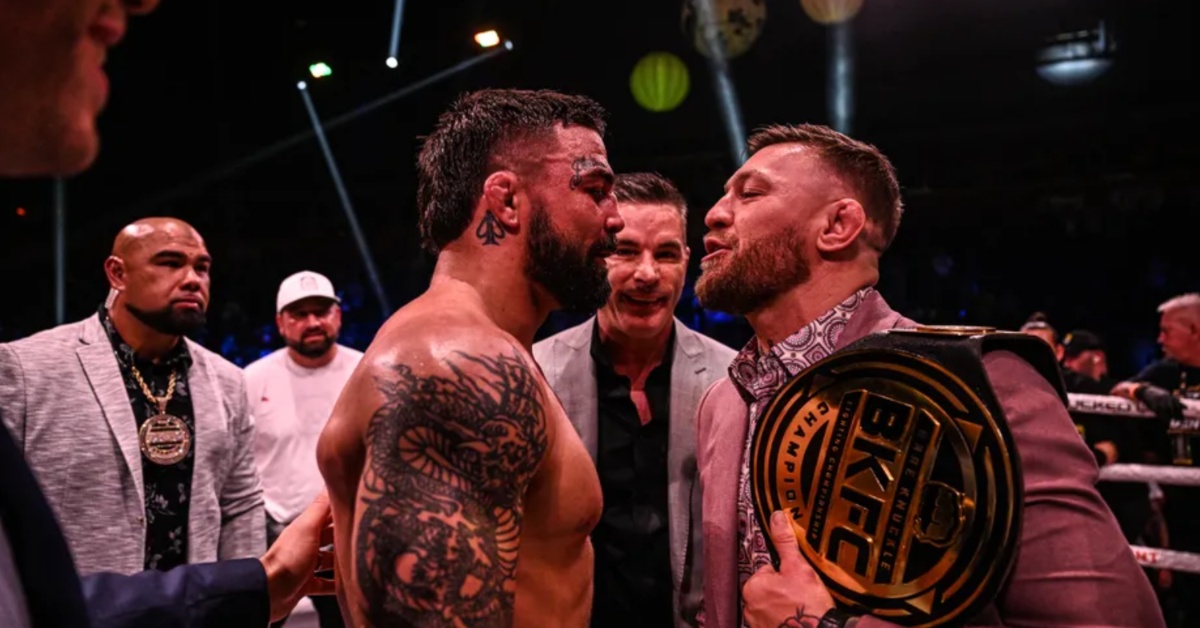 With the duo facing off inside the ring at a BKFC (Bare Knuckle Fighting Championship) event back in April, UFC color-commentator, Joe Rogan has claimed a potential future fight between promotional-perfect puncher, Mike Perry, and former two-weight UFC champion, Conor McGregor as "f*cking bananas".
Perry, a former welterweight contender under the banner of the UFC, departed the promotion back in 2021, before linking up with the David Feldman-led BKFC the following year.
So far boasting an undefeated 3-0 record in the organization, Perry racked up a pair of consecutive decision wins over The Ultimate Fighter alum, Julian Lane, before then defeating former Bellator MMA welterweight title challenger, Michael Page in London last year.
Returning this year in Broomfield, Colorado, Perry landed an eventual TKO retirement win over former UFC middleweight champion, Luke Rockhold in a bloody war for as long at it lasted.
Mike Perry faced off with Conor McGregor in the ring earlier this year
Surprisingly, Perry was met in the ring by Conor McGregor, who was sporting a BKFC championship belt, and reflected on the encounter during a recent appearance on The Joe Rogan Experience.
"He (Conor McGregor) was moving all over the place and I stood my ground," Mike Perry said. "I stood so still and I couldn't be wavered or moved. He was moving all over the place. I mean, that says that he was free in that moment to do so, obviously. But, it was me respectfully calling him out, which shows the professional in martial arts that I have been for so many years."
"How do you call a man out in a sport that he has a family and you guys want to hurt each other and they can honor it in a fair way and promote it to be entertaining?" Mike Perry asked.
As far as Rogan is concerned, however, a future fight between McGregor and Perry under the BKFC banner, albeit unlikely, would be staggering.
"If he (Conor McGregor) decided to do that – if somehow or another they [the UFC] gave him the green light to do that, I can't imagine how that could ever happen, but if it did – if that happened in a bare knuckle fight, that would be f*cking bananas," Joe Rogan said."
"He's a very good kicker, he can do everything, but if somehow or another he agreed to fight bare knuckle, I mean, Jesus Christ, you know how big that would be?" Rogan explained. "That would be wild. If they did that in bare knuckle, it would be a million pay-per-view buys at least – probably more." (Transcribed by MMA Fighting)