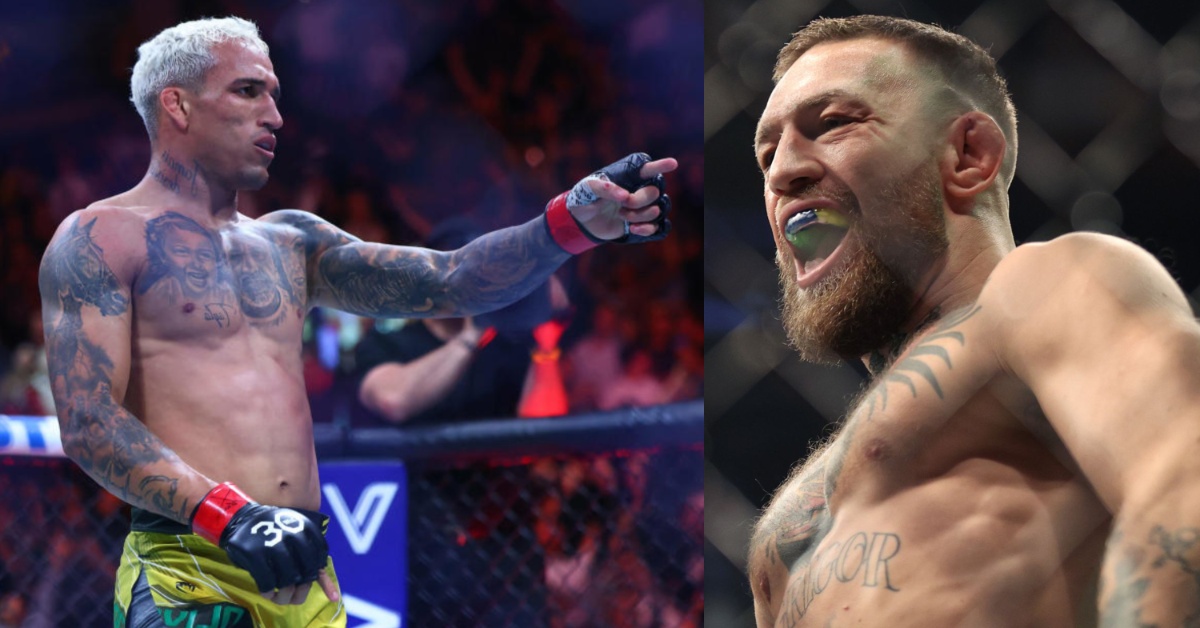 Charles Oliveira is ready to throw hands with Irish megastar Conor McGregor whenever the former champ-champ decides he wants to strap on some gloves instead of running his mouth on social media.
For some time, 'Do Bronx' was the number one name on Conor McGregor's hit list, particularly after Oliveira captured the lightweight world title with a second-round knockout against Michael Chandler in 2021. Oliveira followed that up with impressive submission finishes against both Dustin Poirier and Justin Gaethje. Dubbed by many as the best lightweight in the history of the sport, it was just a matter of time before the Irishman targeted Oliveira.
Unfortunately, a mishap on the scale resulted in Charles Oliveira being stripped of the title, taking him off Conor McGregor's radar for the time being.
Appearing on The MMA Hour with Ariel Helwani, 'Do Bronx' made it clear that he is 100% ready to sign on the dotted line for a showdown with Conor McGregor. He's just waiting for the Irishman to confirm the time and the place.
"What's happening is that I'm here — I'm just waiting for him," Oliveira said via a translator. "All he needs to do is tell me the place and the time, and I'll be there" (h/t MMA Fighting).
Charles Oliveira Prepares for World Title Fight While Conor McGregor Trash-Talks on Twitter
Currently, Charles Oliveira is gearing up for a lightweight title rematch with reigning champion Islam Makhachev. The two men will run back their UFC 280 bout on October 21 when the promotion returns to Abu Dhabi. If 'Do Bronx' comes out on top, perhaps Conor McGregor will once again consider returning to take on the Brazilian superstar.
"I don't know, I'm here — where is Conor?" 'Do Bronx' asked.
For now, Conor McGregor seems more interested in trashing every other fighter that actually steps into the cage, or the ring. Following Justin Gaethje's highlight-reel knockout of Dustin Poirier at UFC 291 last month, the Irishman immediately targeted the newly minted BMF titleholder, suggesting a fight between the two would be a one-sided affair.
McGregor also had nothing nice to say about Jake Paul or Nate Diaz's performance following the pair's 10-round boxing bout on Saturday night. With the former two-division titleholder calling out fighters from one end of the spectrum to the other, fans aren't even sure which weight class he intends to compete in, should he make his long-awaited return. But for Charles Oliveira, it makes no difference.
"170, 183 [pounds], doesn't matter," Oliveira said. "All he needs to do is stop and do it."