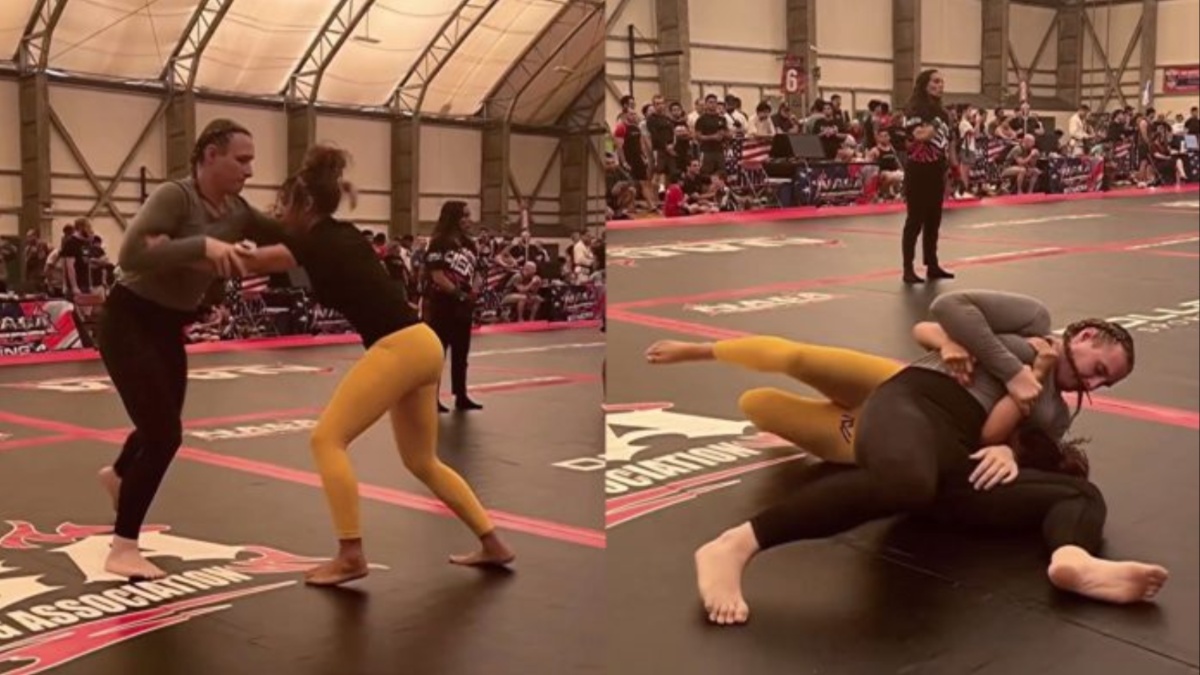 On September 9, 135-pound Brazilian jiu-jitsu practitioner Taelor Moore stepped onto the mat during a BJJ tournament in California to meet her next opponent. You can imagine her surprise when the opponent turned out to be a 200-pound trans woman named Alice McPike.
"I weighed in at 135 … and she was over 200!" Moore captioned a clip of the matchup on Instagram.
Competing as part of the NAGA Grappling Championship on September 9, Taelor Moore managed to secure a win over her much larger opponent via a guillotine choke, but that didn't stop commenters on social media from being absolutely outraged by another instance of a trans woman being allowed to compete with a biological, or cisgender woman.
"Far from a she, that's a grown-ass man using his size and weight against you. Congratulations on the win but you ladies need to stand together and not compete against men with makeup. You ladies are the key, this is not okay," one commenter quipped.
"Shout out to all the REAL women competitors out there. That other dude should be ashamed of himself," another replied.
McPike, 29, may have lost the contest to Moore, but she took home silver in the women's Absolute No-GI Indeterminate category after defeating another athlete.
Taelor Moore's Coach Released a Video Defending His Athlete Amid Accusations of Bigotry
Moore's coach, Smitty Wit, released a video defending his student and expressed their shared concern over trans women competing with cisgender females in BJJ.
"I have a student who went against a trans athlete in an open-weight division for jiu-jitsu grappling, a combat sport," Wit said. "I'm sure a lot of people hearing this are thinking that my student lost. No, she won. But I have a really big issue at hand, this is a very serious topic. In jiu-jitsu, we don't drug test. You can take steroids. Everyone knows this. It is what it is. When you step on these mats, you waive your rights to your life…. And I had to gaslight my student."
Trans women in combat sports as been a hot-button issue over the years, much of which began when trans fighter Fallon Fox made her pro debut in 2012. Fox has since retired, but in 2021, the controversy was given new life when Alana McLaughlin, a trans woman, made her mixed martial arts debut under the Combat Global banner. The promotion significantly underestimated the backlash they would face by booking McLaughlin against a biological woman.
Many fighters and fans have since expressed their frustration over trans women being allowed to compete with cisgender women. Not just in combat sports, but in competitive sports across the board. Unfortunately, when the subject is broached, there is typically a lack of respect and willingness to have a serious conversation. It almost always devolves into blatant displays of homophobia and accusations of bigotry.
"This is my problem. When she goes online and posts about her experience, now she's a bigot and she's 'outing' this trans athlete," Wit added. "Where do we draw the line? So now women can't talk about their experiences in a combat sport?"
UFC CEO Dana White recently voiced his displeasure over trans women in competitive sports, vowing to protect his daughter, who is a cheerleader, from being endangered by trans women attempting to enter female sports.