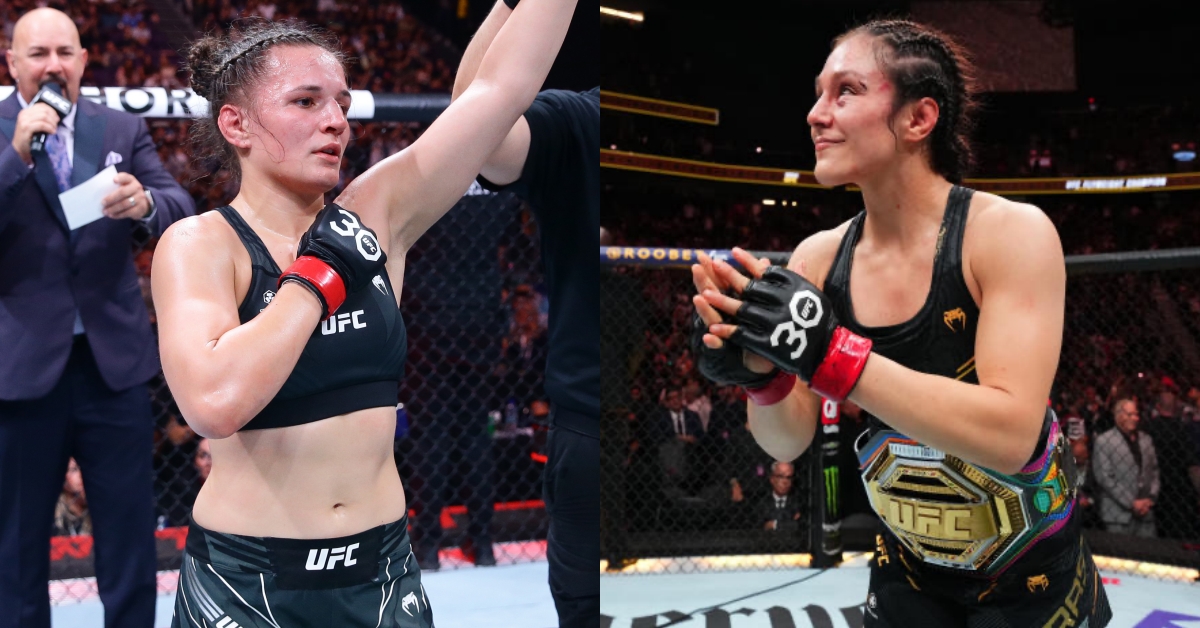 Claiming potential trilogies between a championship holder and hopeful most definitely hold-up a division, surging flyweight challenger, Erin Blanchfield has staked her claim for a title affair with the incumbent Alexa Grasso after Noche UFC – laying out her winning résumé as of late.
Blanchfield, the current number two ranked flyweight contender, most recently turned in an impressive unanimous decision win over one-time title challenger, Taila Santos back in August in the co-main event of UFC Fight Night Singapore – improving on her so-far promotional-perfect run.
And touted to challenge for flyweight gold at the very least in the future, Blanchfield, who boasts an impressive 12-1 professional record, has been entertained as a potential opponent alongside Manon Fiorot by undisputed champion, Grasso, following her split draw decision against Valentina Shevchenko over the course of the weekend at Noche UFC.
Erin Blanchfield stakes claims for title fight with Alexa Grasso after Noche UFC
Furthermore, despite suggestions of a trilogy title fight between Grasso and Shevchenko amid their controversial draw, New Jersey native, Blanchfield has claimed she should "definitely" compete for flyweight spoils next.
"I feel like I definitely should be next," Erin Blanchfield told The Schmoduring a recent interview. "I feel like trilogies sometimes can clog up the divisions. Putting in some new blood for the title would be super helpful. I know Manon (Fiorot) is right behind me, so if anything, I could beat her up, too, if they [the UFC] did a trilogy next. But i want to be next." 
"That was a crazy fight," Erin Blanchfield continued. "Sitting there, I thought Valentina (Shevchenko) won. I thought she did enough, I'll definitely have to watch it back and see, but crazy fight. I think she did [win]. I'd have to watch it back to kind of remember what happened each roun and see what girl capitalized on what. But in the moment, I thought Valentina won." 
Prior to her decision win over Brazilian contender, Santos, former Invicta FC standout, Blanchfield had turned in consecutive submission win overs Molly McCann, and a hugely-impressive stoppage of former undisputed strawweight champion, Jessica Andrade in her premiere headlining clash. 
Would you like to see Erin Blanchfield fight Alexa Grasso next?