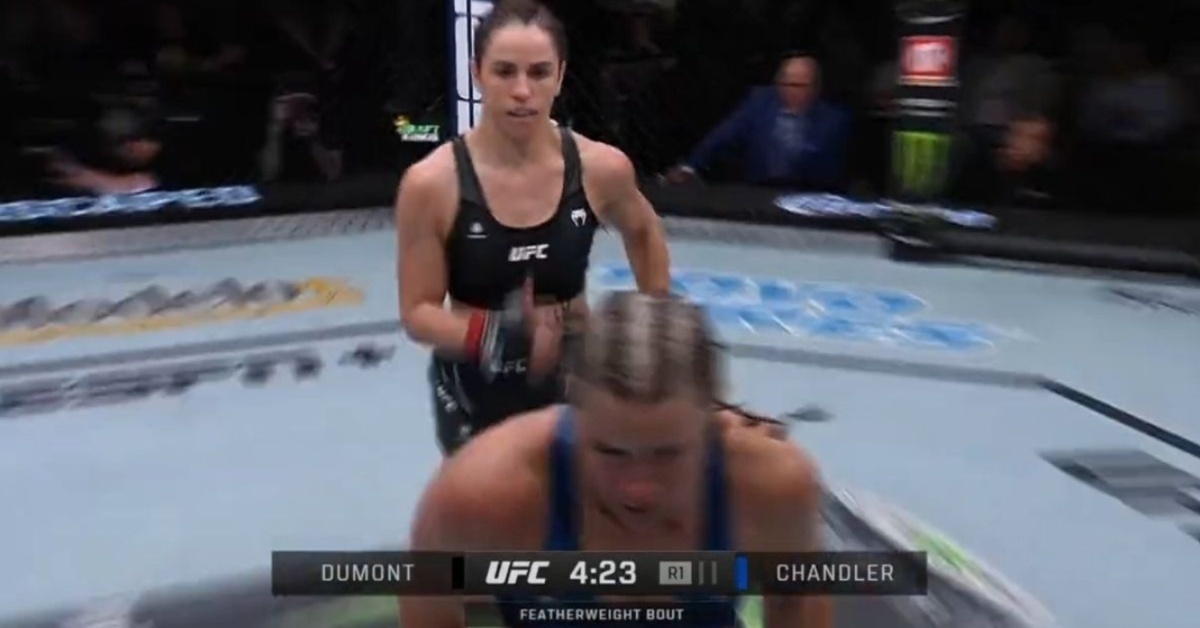 Appearing in the news cycle earlier this week following claims from her that rumors have been suggesting a featherweight return to the UFC for ex-champion, Ronda Rousey, division challenger, Chelsea Chandler has found herself in the headlines again – with fans and social media users laughing at her decision to run from Norma Dumont during last night's clash.
Chandler, an alum of the Shannon Knapp-led Invicta FC, had made a successful debut inside the Octagon back in October of last year, landing a first round TKO win over Julija Stoliarenko at the UFC Apex facility.
Returning to the same venue for last night's high-stakes clash with perennial contender, Dumont last night, Chelsea Chandler slumped to 5-2 as a professional, dropping a unanimous decision loss to the Brazilian championship hopeful.
Chelsea Chandler was on the receiving end of meme treatment on social media
However, receiving flak and subsequent meme treatment across social media, within the opening minute of the first round, Chandler was clipped with a heavy shot from Dumont, before the Stockton native turned on her heels and openly sprinted from side of the Octagon to the other, actually colliding into an advertising panel while the former gave pursuit. 
All you people making fun of Chelsea Chandler have no clue how hard it is to eat a punch and then do a sprint. That's how you work on your chin and cardio at the same time. Respect. #UFC

— MMA Roasted (@MMARoasted) July 16, 2023
Chelsea Chandler running from Norma Dumont… may have been one of the funniest things I've ever seen in all my years of watching MMA. Dumont running like a T1000 after her like she stole her lunch money sealed the deal #UFCVegas77 #MMATwitter pic.twitter.com/n7LmVJTXAs

— Jay Henry (@jayhenry79) July 16, 2023
Earlier in the week during her media availability, Chandler claimed that inaugural bantamweight champion, Rousey was in line for a return to the Octagon – in a rumored featherweight division debut for the former titleholder, however, as a result, rumors were firmly put to bed with Rousey currently "not considering" what would be a stunning comeback to the UFC. 
Riding an impressive five-fight winning run into last night's UFC Vegas 77 clash with Dumont, Chandler had picked up a notable TKO win over Brittney Victoria, before submitting Olivia Parker with a rear-naked choke under the Invicta FC banner.