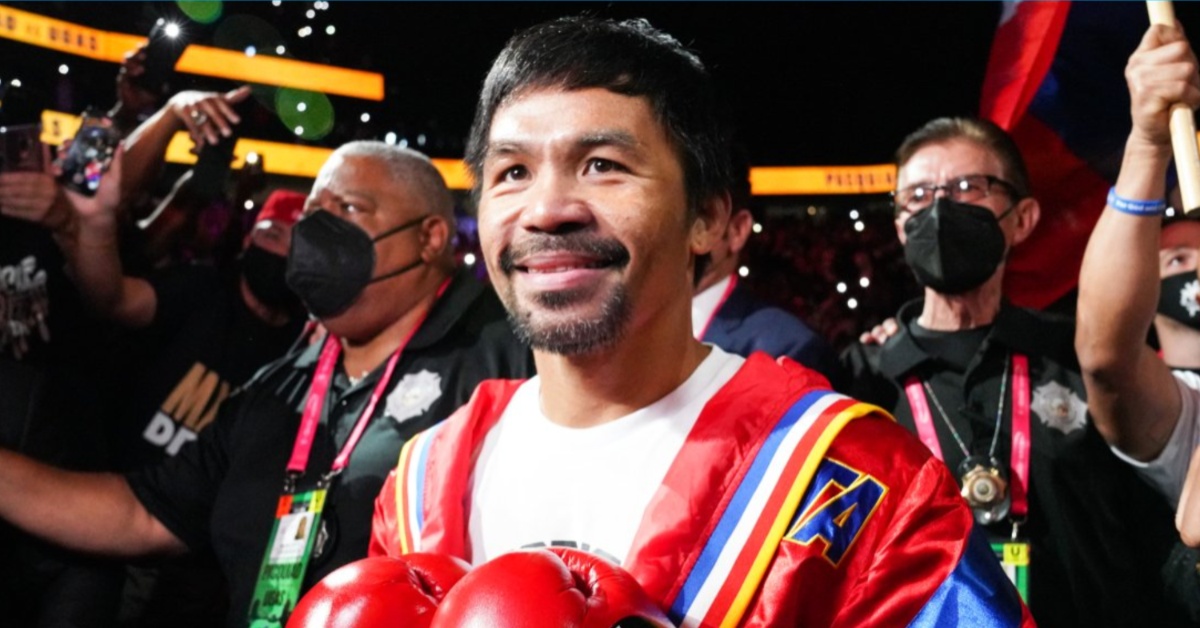 Legendary boxer Manny Pacquiao isn't quite done yet.
Already etching his name into the history books as an eight-weight world champion, Manny Pacquiao now has his sights set on closing out his career with an Olympic gold medal. According to Philippine Olympic Committee president Abraham Tolentino, Pacquiao hopes to compete in the 2024 Olympic Games in Paris next year.
"Senator Pacquiao's camp reached out saying our Filipino ring idol wants to fight in Paris," Tolentino said in a statement.
The biggest obstacle Manny Pacquiao faces in qualifying for the games is the fact that by the time athletes head to Paris in 2024, 'PacMan' will be 45 years old, five years over the maximum allowable age limit. However, it has been reported that the local Olympic body is now discussing with the Association of Boxing Alliances in the Philippines and the International Olympic Committee how Pacquiao might earn a spot at the games.
‼️ Manny Pacquiao wants to fight at the Paris 2024 Olympics with the aim of ending his boxing career by winning a gold medal for his country at age 45, Philippine Olympic Committee president Abraham Tolentino has announced. He said they're now exploring qualification routes. pic.twitter.com/rbI4HvpZXd

— Michael Benson (@MichaelBensonn) August 30, 2023
The next opportunity to quality for Paris 2024 will begin on September 23 when the Asia Games kick off in the People's Republic of China. Pacquiao is unlikely to appear at the event given the limited amount of time between then and now, but there will also be two qualification events held during the second quarter of 2024 that could lead Pacquaio toward a birth in the Olympic Games.
Previously, Olympic-level boxing was exclusive to amateur pugilists, but that rule changed in 2016, paving the way for professional boxers to finally compete on the globe's biggest stage.
Manny Pacquiao's Accomplishments Speak for Themselves
With a career spanning more than a quarter century, Manny Pacquiao amassed an impressive 62-8 record and is considered by many to be the greatest boxer in the history of the sport. Aside from capturing world championships in eight different weight classes, 'PacMan' is the first fighter to capture the lineal championship in five separate divisions. He also holds the distinction of being the oldest fighter to win a welterweight world title.
'PacMan last competed in 2021, suffering a unanimous decision loss to Yordenis Ugás in Las Vegas.
Before making a push for the 2024 Olympics, Manny Pacquaio will strap on the eight-ounce gloves for an exhibition bout with Muay Thai icon Buakaw Banchamek. Announced in July, the pair will compete under international boxing rules in Bangkok, Thailand this January.